This article or section is a stub. You can help by expanding it.
An Easter egg is an intentional hidden message, inside joke, or a small feature in various forms of media or interactive work.
Battlegroup42 features several Easter eggs hidden within the mod.
Lt. Moeder Theresa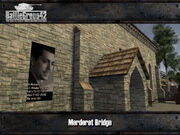 Tributes for Lt. Moeder Theresa can be found in 4406-Merderet Bridge, which include a poster, a beer bottle, and a beer glass near the Church control point. Lt. Moeder Theresa was a mapper for Battlegroup42, well known for his close quarter combat maps. He passed away in February 2009 and was unable to finish his last map, therefore Sarge Surfat took over to complete it for him.
Beer bottles and glasses with his avatar can also be found in various maps.
Sharks
Sharks can be found in Conquest mode of 4112-Wake Island and Wake Island. They can be entered and controlled by players like a boat, and its secondary fire function (default key: right-click) will play the theme song from Jaws.
Pink Floyd
A Pink Floyd concert hall can be found within the German base of 4402-When the Tigers broke free. The name of the map comes from Pink Floyd's song of the same name, which describes the destruction of the Royal Fusiliers Z Company in Battle of Anzio. Roger Waters' father, Eric Fletcher Waters, was also killed in the battle.
Madagascar
Two Easter eggs can be found in 4205-Operation Ironclad. Both are in reference to the Madagascar film:
A portion of the song I Like to Move It is played in the central hut of the circle of huts at D3.
Images of King Julien, Mort, and Maurice can be found underwater at the bay not far from the circle of huts at D3.
Names on guardhouse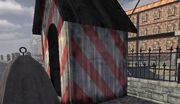 Names are scribbled a large variant of guardhouse, which can be found on several maps. The names are ==MAD==, -=GERONIMO|GER=-, and [MOB]Sgt Surfat, all of whom have worked on the mod. The name of -=GERONIMO|GER=-, who created several unique buildings for Battlegroup42, can also be found below the roof of a simple square house, which for example often can be found on maps with Mediterranean scenarios.